Oakwood Cares because Jesus Cares.
The Oakwood Cares team is sponsoring several events over the next several months. Check out the details below to see how you can be involved.
Upcoming Events hosted by Oakwood Cares: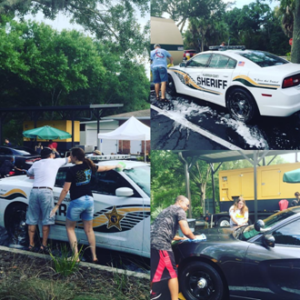 Wash Cars & Serve Lunch
for our District 3 Sheriff's Deputies
Saturday, March 25, 10 AM—2 PM
Meet at Hillsborough County Sheriff's District 3 Office, 7202 Gunn Hwy, Citrus Park, Florida 33625 (near Citrus Park Mall East Entrance)
JOIN US as we bless those who serve and protect us. Come for a short shift or for all 4 hours. Bring cleaning rags, sponges or other supplies or just come with a heart willing to help.
And for those who love a cooking competition, bring a crock pot full of chili to serve.
Sign up at church or RSVP on Facebook to the Oakwood Cares event so we know how many to expect. Direct questions to oakwoodcares@gmail.com.
Free Self-Defense Classes
Wednesday Nights – April 5, 12, 19, 26
7:00-8:30 pm
PowerHouse Building
Don't be scared. Be aware and get prepared.
Come listen and learn or participate if you'd like to learn some defensive moves in these 4 sessions. No physical requirements or concerns. Feel free to invite neighbors and friends. Those who joined us previously are encouraged to return as Mike will bringing a partner to help demonstrate some new moves.
There is no charge for these classes. You will have an opportunity to purchase items or private classes if desired but there is no pressure to do so. RSVP on our Oakwood Cares facebook page. Note: You do not need to attend all 4 sessions.
Our instructor, Mike Kennedy, has more than 35 years of experience, as a former homeland security officer and US Army Col. (Retired). Mike is a Christian and husband to wife Tammy and father of grown daughters. Learn more about his company and services on facebook: Triple T Defense.
Questions can be directed to OakwoodCares@gmail.com