Our Purpose
Our purpose is to develop children into fully-devoted followers of Jesus Christ. Our desire is to support the family in their effort to build a spiritual foundation, rooted and grounded in God's Word, leading to faith in Jesus Christ and loving submission to Him as Lord of their lives. We want our children to know God's love expressed in Jesus Christ and to love Him in response, actively serving His purposes and honoring Him in all areas of their lives.
Train a child in the way he should go, and when he is old he will not turn from it.
Proverbs 22:6
Check out what's going on in TreeHouse by liking our Facebook page!
Our Sunday Programs
Nursery Ministry
Ages 0 – 23 Months
Even the youngest child will receive the utmost loving care in our nursery ministry. Our nursery is staffed with wonderful volunteers who will cradle your infant in this loving, safe environment. Toddlers will learn Bible lessons that are designed for them to understand. Storytelling and music will be used to proclaim God's truths.
Children's Ministry
2-4 Year Olds 
Taught in a classroom setting, your child will be actively engaged in creative Bible lessons that encourage their knowledge and understanding that God loves them and desires a relationship with them.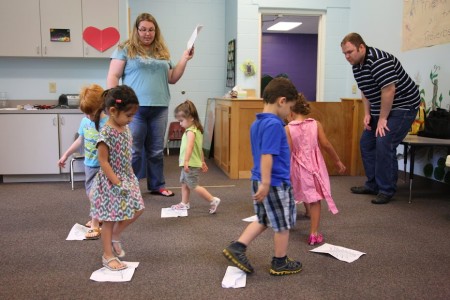 Kindergarten – 5th Grade Students
Students meet together in a large group setting and small group huddles. During the large group assemblies, they hear messages from God's Word and worship through music and creative praise. These Biblical truths are dynamically reinforced through fun activities like drama, puppet shows, videos and games.
Frequently Asked Questions
Will my child be safe while I am away?
Safety for both children and those ministering to them is a high priority at Oakwood. Each person involved in our children's ministry must complete a ministry interview process, including a thorough application, careful in-person screening, and a personal background check through the Hillsborough County Sheriff's Office. Our other safety policies cover appropriate ratios, tailored facilities, and mature supervision.
Additionally, a number system has been established for dropping off and picking up children only by adults whom the parents have designated. And, if your child needs your care during a service, we will electronically post your number in the worship center where you can easily see the notification.
Who can be involved in Children's Ministry?
Those who pass the ministry interview process are gratefully invited to serve in this ministry. We have parents, grandparents, adults and youth – in fact, anyone who has accepted Jesus as his/ her Savior and has a heart to serve God. Training and supervision are provided by experienced staff and volunteers.

How do I get involved?
For information or questions about our Children's ministry, please contact Dave Dorsey  dave@oakwoodfl.org  or (813) 969-2303.
Be A Missionary Right Where You Are
We're putting a "real face" on missions! Through a variety of outreach projects, we are involving the whole children's ministry in missions work around the world. These include:
Compassion International
We have adopted "Florida," a young girl from Kenya! Our children's weekly offerings enable us to help her receive educational opportunities, health care and supplemental nutrition.