The doors open for all students 6th – 12th grades at 5:00 PM.  All students should be picked up by 7:30 PM.  Our actual meeting starts about 5:30 and ends at 7:00 PM.  Our snack bar sells food on Sunday nights.  Parents are welcome to come and see what happens at our youth meetings.
What PowerHouse is about:
Truth-Centered, Radical & Relational, Friendships & Discipleship, and Life-Changing.
Growing up in this generation is challenging. Yet, God has given us everything we need to live it to the fullest as we grow in our knowledge and trust in Jesus Christ.
We want students to know that our teen ministry is a place they can go to get the truth and to develop a real relationship with God through Jesus Christ. This is a place that welcomes everyone and offers opportunities for students to take the next steps in their own relationships with Christ.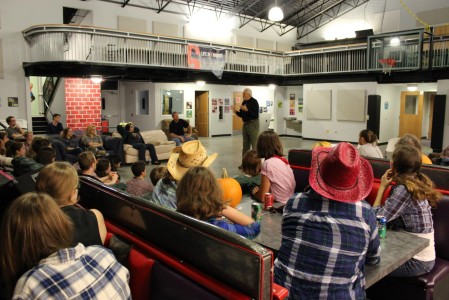 Connect: Crazy games, cool snacks, radical student led worship, and Bible challenge.
Go Deep: Intense study of God's Word through small groups.
Step Up: Develop leadership skills as you serve in PowerHouse.
Reach Out: PowerHouse parties, Concerts, Campouts, Lock-ins, Retreats, and Mission trips.
For information or questions about our Youth ministry, please contact Doug Cress or Cam Whipple.
Food Bag Ministry
Our PowerHouse students have a monthly fundraiser assembling food bags that are distributed to medical clinics in Tampa, Lakeland, Haines City and Winter Haven? These bags are distributed to indigent patients at the clinic to provide some basic food needs of the patients and their family.
PowerHouse teens can raise money for summer mission/conference trips by participating in our monthly Food Bag Ministry, typically on the second Sunday of each month. Teens can raise extra funds by helping shop for the food and/or helping with delivery of the food bags to the medical clinics. Contact Cam Whipple if you want to help. For more details on deliveries, contact Cindy Giannone.