Our Mission:
To transform ordinary people into fully devoted followers of Christ.
"Go therefore and make disciples of all nations, baptizing them in the name of the Father, and of the Son and of the Holy Spirit, teaching them to observe everything I have commanded you." Matthew 28:19-20
Our Vision:
As a result of our lives and ministry, people in Tampa and all over the world will think more often and more highly of Jesus.
"The Son of Man must be lifted up, that whoever believes in him may have eternal life." John 3:14-15
Our Strategy & Discipleship Pathway:
Our strategy as a church supports the pathway we encourage our people to follow. Individuals "run the bases," while church leaders serve as coaches – leading the way and providing encouragement to help everyone keep moving forward.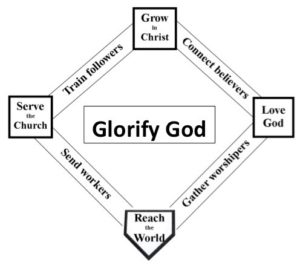 We gather worshipers of Jesus, expressing our love for God but we don't stop there. We connect believers in Community Groups to help them grow toward maturity in Christ. Then we train followers of Jesus to serve the church according to their passions and gifts. Finally, we send workers for Jesus on mission to reach the world. This is how we join God in His work of transforming ordinary people into fully devoted followers of Christ. It is all about Him in terms of the power to reach people and the purpose – to give all the credit and praise to Jesus. And so, empowered by the Holy Spirit and focused on the Gospel, we continue to run and to advance all of our runners, bringing as many people with us as we can.
| | |
| --- | --- |
| Our Church Strategy: | Our Discipleship Pathway: |
| ?    Gather worshipers | ?      Love God |
| ?    Connect believers | ?      Grow in Christ |
| ?    Train followers | ?      Serve the Church |
| ?    Send workers | ?      Reach the World |
Our Christ-Exalting Vision: WHY we do what we do
In our Church – to lift up Jesus as the all-sufficient Savior and our all-satisfying treasure so that we think more often and more highly of Him. "Rejoice in the Lord." Philippians 4:4
In our City – to show and share the love of Christ so that the people around us and all over Tampa think more often and more highly of Him. "Let your light shine before others that they may see your good works and glorify your Father in heaven." Matthew 5:16
In the World – to join God in His work of bringing the Good News of Jesus to the ends of the earth so that many peoples will come to know, trust and love Him. "Oh give thanks to the LORD; call upon his name; make known his deeds among all peoples! Sing to him, sing praises to him; tell of all his wondrous works!" Psalm 105:1-2
Our Strategy as a Church: WHAT we are called to do in pursuit of life-transforming ministry
Gather people to worship Jesus (instead of the false gods of self, money, power and success) in a weekly celebration of the glory and grace of God by developing a culture of personal invitation and gospel proclamation. "True worshipers will worship the Father in Spirit and in truth, for the Father is seeking such people to worship him." John 4:23
Connect believers in Jesus into loving, intentional fellowship (Community Groups) to effectively care for the people God brings us and help them become more like Christ.
"Let us consider how to stir up one another to love and good works, not neglecting to meet together, but encouraging one another." Heb. 10:24-25
Train followers of Jesus to love God, grow toward maturity, serve the church and reach the world with the love of Christ. "To equip the saints for the work of ministry, for building up the body of Christ." Ephesians 4:12
Send out workers for Jesus to preach the Gospel in Tampa and all over the world. "You will be my witnesses in Jerusalem and all Judea and Samaria and to the end of the earth." Acts 1:8
Our Pathway for Believers: WHERE our people should go to move toward full devotion to Christ
Love God through regular attendance in our weekly worship celebration and through personal Bible study and prayer. "Love the Lord your God with all your heart, with all your soul and with all your mind." Matthew 22:37
Grow in Christ through consistent involvement in a Community Group where Bible study, prayer and mutual encouragement help believers make progress toward maturity. "We proclaim him… that we present everyone mature in Christ." Colossians 1:28
Serve the Church through faithful involvement on a Ministry Team, utilizing everyone's spiritual gifts, passions and abilities to advance the church's mission. "As each has received a gift, use it to serve one another, as good stewards of God's varied grace." 1 Peter 4:10
Reach the World through loving personal evangelism and bold, sacrificial investment in the advance of the Gospel worldwide. "If only I may finish the race and complete the task the Lord Jesus has given to me – the task of testifying to the gospel of God's grace." Acts 20:24 
Our Core Values: HOW our people and programs should operate
Biblical – We believe the Bible is the inspired and inerrant revelation from God, culminating in the arrival of Jesus and centered on Christ from beginning to end. Therefore Scripture is the foundation for all we believe and the guide for all we do. "All Scripture is breathed out by God and profitable for teaching, for reproof, for correction, and training in righteousness, that the man of God may be complete, equipped for every good work." 2 Tim. 3:16-17
Dependent – We believe that God is ultimate and infinite and that we are powerless apart from Christ, entirely dependent on His grace to sustain us, His Gospel to transform us, His Spirit to direct us and His power to work through us. "If a man remains in me and I in him he will bear much fruit; apart from me you can do nothing… this is to my father's glory, that you bear much fruit." John 15:5,8
Relational – We believe that love for God overflows in love for people in both words and deeds that are sincere, sacrificial, gracious and faithful. "Beloved, let us love one another, for love is from God, and whoever loves has been born of God and knows God." 1 John 4:7-8
Empowering – We believe there is one body of Christ and that every member of His body is needed to reflect the unity of our Triune God. To effectively meet the needs in our church and to reach out with God's love in the world, every one of our members must be actively using and growing in their spiritual gifts. "He makes the whole body fit together perfectly. As each part does its own special work, it helps the other parts grow, so that the whole body is healthy and growing and full of love." Ephesians 4:16 (NLT)
Multiplying – We believe that Jesus' strategy was to invest in a few to reach the many – to raise up leaders the masses would follow. Therefore we prayerfully call upon God to work in and through us so that multiplying leaders will multiply disciples who will help multiply groups, worship services, campuses and churches in Tampa and throughout the world. "Be strengthened by the grace that is in Christ Jesus,and what you have heard from me in the presence of many witnesses entrust to faithful men, who will be able to teach others also." 2 Timothy 2:1-2