October 21
PowerHouse Work Day. All students are encouraged to come and help with a cleanup day in PowerHouse.
October 22
Oakwood Cares Team Meeting
Czech Team Ministry Update. Everyone is invited to come and hear a report from the Czech Team on their English Camp/Ministry trip from this summer. The meeting will be in the TreeHouse Building at 6:00 PM.
October 23
Elder Team Meeting
October 28
Mark your calendar for Saturday, October 28, 4:00 – 7:00 PM for the 3rd Annual Oakwood Fall Festival. This event includes Family Fun Games, Hay Ride, Obstacle Course, Dunk Tank, Bounce House, Pie Eating Contest and ends with Trunk or Treat at 6:00 PM. Candy donations are needed. Please drop your donations in the barrel in the lobby.
November 4
Oakwood Cares is sponsoring Operation Christmas Child (OCC), a ministry of Samaritan's Purse, and we would like to have the Oakwood family participate. You can join us by picking up a box (or 2) and brochure, filling it with toys, hygiene items and school supplies and bringing it back to Oakwood on or before Nov. 19th.
Or you can join us for a pizza packing party on Saturday, Nov. 4th at 6:00 PM at Oakwood! We'll pack boxes for children around the world as we listen to the sounds of Christmas. Invite a friend to this event! Please bring items for the shoe boxes to the packing party along with a check for $9 for shipping. The most needed items are toys (stuffed animals, dolls, cars, balls, yo-yos, jump ropes).
General Announcements
Baby Bottles of Love. During the month of October, we will be supporting Assure Women's Center by filling baby bottles with loose change. Pick up your bottle in the lobby today. Please return them to Oakwood by October 29.
Your change can make a difference for a mom and a child. All proceeds will directly benefit women visiting Assure Women's Center.
Assure Women's Center is supported through the Missions giving at Oakwood and ministers to women who are pregnant and in difficult life situations.
Communication Changes. Beginning in October, you will see some communication changes from the Church Office. Our bi-weekly newsletter, the Oakwood ACORN, will now be a monthly publication, covering happenings for an entire month.
We will send out a weekly Oakwood Update via email that will give you important information about what is happening "this week" at Oakwood.
Do you order from Amazon? Your orders can benefit Oakwood by shopping through AmazonSmile. Just go to https://smile.amazon.com/ch/59-2436827, place your order, and 0.5% of your qualifying purchase will be donated to Oakwood through the AmazonSmile charity.
PowerHouse. The doors open for all students 6th – 12th grades at 5:00 PM.  All students should be picked up by 7:30 PM.  Our actual meeting starts about 5:30 and ends at 7:00 PM.  Our snack bar sells food on Sunday nights.  Parents are welcome to come and see what happens at our youth meetings.
 Our Daily Bread.  The excellent daily devotional guide, Our Daily Bread, can help you experience the presence of God throughout your busy day by helping you focus your thoughts on Him.  Pick up your free copy from the Information Center in the lobby or you can download the App on your smart phone or tablet and get the devotional sent directly to you every day.
Online Giving. Did you know that you can make financial contributions to Oakwood through our website?  You can give one time or set up for recurring donations.  Visit www.oakwoodfl.org and click "Give Online" on the right side of the menu on the home page.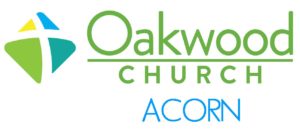 Oakwood Newsletter
The latest issue of The ACORN is available at the Information Center and online.