This coming Sunday (12/31/17) I will preach a message with this title, Finishing the Task, based on Acts 20:24 – "But I do not account my life of any value nor as precious to myself, if only I may finish my course and the ministry that I received from the Lord Jesus, to testify to the gospel of the grace of God."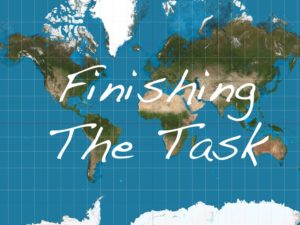 The Apostle Paul had a lazer focus for his life and ministry: to proclaim the Gospel where it had never been heard. Nearly 2,000 years after the death and resurrection of Jesus Christ it is startling to learn how many people still remain in that category.
Visit Finishing the Task to learn more about the 1,347 UNENGAGED people groups, totaling more than 41 million people without a single missionary, a single church working to reach them, a single radio or satellite television program, a single scrap of Scripture in their language or even a single gospel pamphlet designed for them. Nothing. They have no access to the Gospel and they NEVER have. 
This should break our hearts as followers of Jesus and fill us with urgency to complete the task Jesus gave us – to "go and make disciples of all nations."
Check out this paradigm shifting sermon from John Piper: Let the Nations Be Glad. It was originally preached in 1986 and then enhanced in 1993, yet it remains a clarion call to missions for the glory of God and the joy of all peoples in Christ.
The Lausanne Movement was born in 1974 as Billy Graham and John Stott brought evangelicals together from 150 nations to begin a partnership to reach the remaining unreached people groups (Ralph Neighbor coined that phrase at that conference in 1974).
The 1989 convention focused missionary efforts on the 10/40 window and many of the unreached people groups began to hear the Gospel.
2010 in Cape Town was the third major convention, drawing together a more diverse representation of leaders from around the world to share in our common mission.
But still today the work remains. 1,347 totally unengaged people group. 41 million people. May we join together with our brothers and sisters around the world to finish the task our Lord Jesus gave to us – "the task of testifying to the Gospel of God's grace."