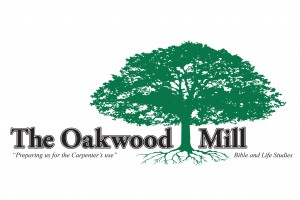 Fall 2013
Classes beginning September 8, 2013
9:15 – 10:15 AM
The Oakwood Mill is the Adult Education Ministry of Oakwood Community Church.  This fall, two classes are being held Sunday mornings in the Education Center:
Old Testament Survey I – Creation, Covenant, and Kings
Location: Room 102/104
Facilitated by Guy Sas
What three major themes are touched on in Genesis?  Why does God say Moses' name twice when He calls him?  What is unique about the Israelites' wisdom literature?  Using lectures by Dr. Douglas Stuart, Professor of Old Testament at Gordon-Conwell, this course takes you through the foundational material of the Old Testament by surveying Genesis through Song of Songs.
Life Issues: The Anger Workbook
Location: Room 106/108
Facilitated by Terri Johnson and Adrianne Smith
Using material from Dr. Les Carter and Dr. Frank Minirth, this course familiarizes learners with the many faces of anger and practical ways to manage their anger.  Also included in the 13-step interactive program is information discussing how anger thrives on unmet needs and other emotions that create anger.