Throughout the fall we walked through the book of Philippians, lifting our eyes from the challenges in our lives to fix our joy in the Lord. As we begin 2018 we will be studying Romans 8 on Sunday mornings while we discuss an eight week Bible study called Momentum in our Community Groups (including one on Sunday mornings at 9:15 a.m.). As you can see in this Momentum Overview, these two studies are meant to supplement and reinforce one another, so please be sure to join a Momentum Bible Study and come to the worship service every Sunday!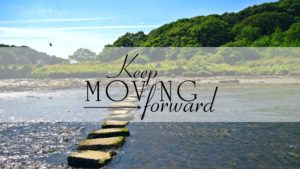 Both Romans 8 and Momentum will challenge us as individual believers and as a church to Keep Moving Forward – to intentionally and prayerfully work to make progress. If you are stuck in a struggle or sin; if you have a wound that won't heal; if you feel adrift without a clear purpose – the next two months will guide you along a pathway toward growth. Followers of Jesus should not remain stuck. We should always be growing.
To that end let me challenge all of us in two specific areas. First, be brave enough to share what you are actually struggling with. You'll see in the first lesson that we all start from a position of total humility and dependence. Let's be honest with each other and bring our issues out of the darkness and into the light of God's grace. Talk openly in your Community Group. Follow up with one or two trusted friends to go deeper and challenge one another to take on real issues and make progress in them.
Second, memorize and meditate on God's Word. Use the key verse from Romans 8 each week as a starting point to let God press the truth of the Gospel deep into your heart and mind and life. Some of you should take up the challenge to memorize Romans 8:1-17 or even the entire chapter (we will finish Romans 8 on Sunday mornings with three more sermons in March). Start with Romans 8:1-2 and go on from there. Meditate on the freedom we have in Christ from both the penalty and power of sin.
Worship is the fuel of missions and the gospel is the fuel of worship. Let the Holy Spirit fill you up with a passion for the supremacy of Christ by meditating deeply on the Gospel over the next eight weeks. May the Gospel move us to worship and may our zeal for the glory of God empower us for the mission Jesus has given us. Brothers and sisters, let's move forward with the Gospel together in 2018!